UCBZeroWaste's 6 step approach to
Zero Waste to Landfill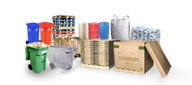 Identify Commodities:
UCBZeroWaste examines all waste materials and streams, and outline the process for each identified material in accordance with U.S. EPA's waste hierarchy: Reuse, Recycle, and Energy Recovery.


Organization & Separation:
UCBZeroWaste sets the logistics for separating and storing waste commodities, focusing on avoiding contamination, efficient collecting methods and saving labor costs.


Efficient Equipment:
UCBZeroWaste identifies and allocates revenue-bringing and value-conserving equipment for best managing your waste material. We have the expertise and industry connections to find the best suiting and most cost effective equipment.




Maximize Waste Financial Return:
UCBZeroWaste uses its extensive waste industry network to connect your company to the highest paying and lowest costly vendors.


Training:
UCBZeroWaste offers full cycle corporate training from material sorting, to collecting methods, to equipment usage (if needed), to using our software.


Tracking & Reporting:
UCBZeroWaste inserts all your data into our proprietary software. Users are able to track waste volumes, landfill diversion rates and financials, request materials pickups, create detailed and graphic reports, and consolidate data. All in real time.